The holiday season is just around the corner, and reports have started coming up about the expected spending on retail and eCommerce sales for this year. Let's get into it right away.
Mastercard Spending Pulse Report
In case you didn't know about it, SpendingPulse is Mastercard's flagship product that visualizes consumer spending patterns. This measures in-store and online retail sales across all forms of payment, not adjusted for inflation. The SpendingPulse reports defining "U.S. retail sales" as sales at retailers and food services merchants of all sizes. Let's dive into what the report says about this Holiday season.
U.S. retail sales are expected to grow 7.1%* this holiday season
Though there has been news of economic turns all throughout the year right from the supply chain crisis, rising inflation and the Russia-Ukraine war consumer spending has continued strong due to jobs holding strong, lingering savings, and the inflation-combating measures. It is estimated that some of the consumer behaviors that took a hike during the pandemic season would persist like omnichannel buying rather than only retail, but also the "experience" sector like vacations, outings, etc. is expected to bounce back.
Overall, the holiday season is going to be important for both in-store and online sales and the fashion-forward sectors which would experience a hike. Let's look at the numbers.
Last year i.e. 2021 sales hit an all-time high as the shoppers shopped early with pent-up demand and excess savings combined with an increase in e-commerce sales. Whereas compared with 2019, 2021 sales were 61.4% higher in the e-commerce segment. According to the report, the key trends to watch include:
Extended holiday shopping: Thanksgiving and early deals shopping are expected to start in October with promotional events like Black Friday and Halloween. It would also increase online sales as compared to last year.
Savings: Inflation has been rising for the past year, as seen in the graph below. Therefore though the consumer demand is high, customers are looking to save their dollars with deals and discounts. With e-commerce growing customers also have a chance to compare prices, therefore e-commerce growth in sales is up +4.5% when compared with 2021.
Store shopping: After the pandemic, people are more interested in having the in-store "experience", making omnichannel a part of their lives increasing the in-store sales by 7.9% as compared to that of 2021.
Fashion: With consumers returning to restaurants, travel, etc. the need for a new wardrobe is increasing apparel sales, apparel sales are estimated to increase by 4.6% when compared to 2021 sales.
The anticipated sales can be summarized below: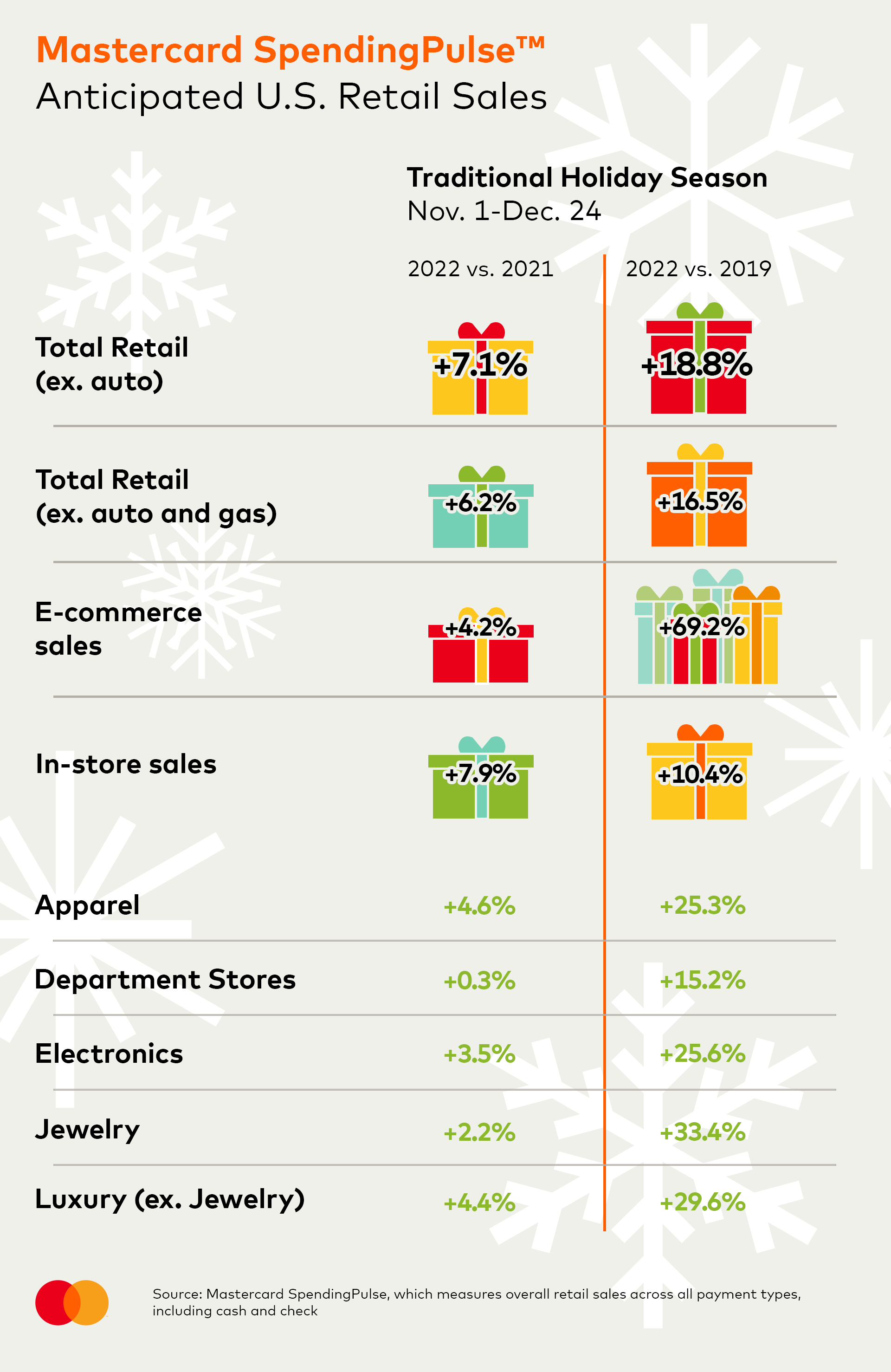 How inflation would affect sales?
The combination of inflation and higher interest rates would definitely affect the upcoming festival season.
Some of the ways it would affect the overall sales and production would be:
Consumers might focus on small-ticket items.
Higher domestic rates can hamper competitiveness.
Online Sales increase with the increase in prices.
In the image below you can find how inflation has been affecting different CPI Categories.
Source: https://www.weforum.org/agenda/2021/12/united-states-inflation-economy/
Other Reports
According to the Retail customer experience, 48% are planning to shop early due to inflation, and continuing online shopping is expected to grow between 12.8% and 14.3%. Some of the key highlights of the report include predictions for the holiday season, which include:
Growth in online shopping by more than 15%, as consumers are looking for convenience and hyper-personalization.
Increase in D2C shopping by most CPG stores by 2025.
Increase in the use of AI to compress the entire, development-to-production-to-consumption cycle.
Advertising spend returns and focus on campaign optimization.
Things to learn from the last holiday season
There is a lot for the companies to learn from the past season to make sure they don't have overstocking or understocking. Last year October sales were higher as the promotional events started early and the consumers wanted to ensure that they had a stock of the gifts they wanted and started placing their orders early, another reason for this early buying was because of the fear of supply chain issues.
Though the consumers mostly received the gifts on time, the retailers had to work behind the scenes by forecasting sales, maintaining inventory levels as per requirement at multiple geographies, and not mention the returns from the sales.
For example, consider this report from Similarweb shows that though the overall online sales have increased, on the actual day of the sale the traffic has increased by only 6%. Therefore, for e-commerce customers, it is important to take note of their previous years' data and compare it with normal.
Source: Forbes
How can data and analytics help boost your holiday sales?
By now you must have understood at least some of the trends that consumers are expecting. Some of them include personalization, online shopping, fashion trends, etc., therefore understanding where the consumers stand inherently by analyzing the data.
Three things that data analytics can help with this holiday season are Price Optimization, Inventory Management, and Personalization.
Price Optimization
With consumers being more price-conscious and price sensitive, it is important to make sure your products are both profitable and discounted enough to drive consumers to buy. With advanced analytics, organizations can change factors affecting the price like profit margins, competitor pricing, etc.
Inventory management
With the supply chain issues and logistics challenges in general, and with the increasing demand during sales, the most crucial part of the supply chain is inventory management. It is important to have the right inventory at the right location in the right quantity. Inventory Management can therefore help eradicate problems of stockouts and over-stocking.
Personalization
By analyzing the data of the customers to understand the buying patterns, purchase rate, average order value, product categories browsed, etc., or what their current cart contains to gain an understanding better of the needs of the customer to give recommendations based on the same. This would also give a better understanding of what coupons or discounts consumers work better with.
In the words of Steve Sadove, senior advisor at Mastercard "This holiday retail season is bound to be far more promotional than the last", showing signs of change in consumer spending trends due to inflation and online shopping behaviors. It is to be seen how the actual shopping trends go, but it is safe to say retail analytics is going to play a role to understand trends, manage inventory, and dynamic pricing this shopping season.